Bunnings sees benefits of valuing older workers
'Since we've existed, we've valued having a diverse workforce and that's included older workers,' says CPO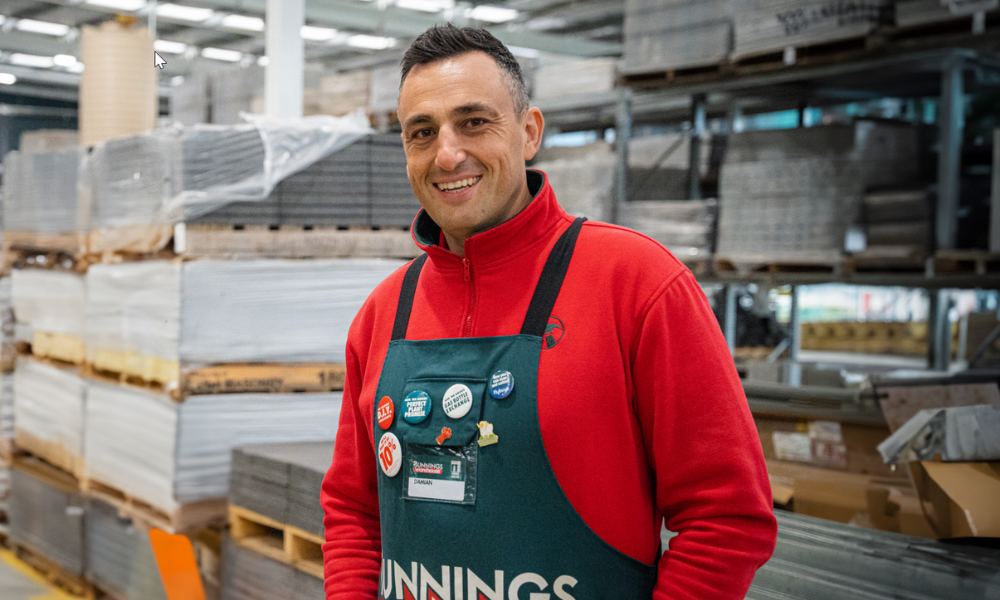 The Ministry of Social Development (MSD) recently launched an initiative to connect older workers with employers. The pickyourpath.nz website is seen not only as an opportunity for the semi-retired who might be looking to mix short-term employment with retirement and regional travel, but also for organisations looking to recruit older workers.
One company that already knows the benefits of employing older workers is Bunnings.
"Since we've existed, we've valued having a diverse workforce and that's included older workers," says Damian Zahra, chief people officer at Bunnings.
"We've known for a really long time that our older team members play a really important part in creating a great place to work. They bring so much life experience, industry knowledge and trade experience – and our customers tell us regularly that they love that."
Older workers make great mentors
Mature workers sharing their knowledge and wisdom doesn't only benefit customers, adds Zahra.
"It's terrific for our organisational culture and they actually become great mentors for a lot of our younger team as well."
The ages of staff at Bunnings range from just 15 to some in their late 80s and even one person who's 91."For a lot of our older team members, while many have joined up post another career, a lot have been with us for their whole working life," he says.
On average, roughly a third of Bunnings' store team members are more than 50 years old while about 14% are aged over 60.
It wasn't that Bunnings specifically set out to employ older workers when establishing its first warehouse branch nearly 30 years ago, says Zahra.
"An important part of our strategy for a long time has been to reflect the communities we operate in – that's in our DNA. Part of that is embracing the wisdom that older team members bring."
Multigenerational team helps business grow
Without doubt, this openness to older workers has helped the business grow, says Zahra. Not only are there benefits from the collegiality and insight a multigenerational team brings, but the mix of perspectives helps with innovating and decision-making, especially when helping customers solve problems.
"Reverse mentoring is actually very important, too," he says, with many younger team members able to help seniors with aspects such as technology. "For a lot of our younger team, it's their first job, so having the calmness of someone who's got more life experience is really valuable. Our customers love it."
Two years ago, the organisation introduced a Retiring Well programme that provides employees with support and information on transitioning into retirement. It allows them to plan ahead and provides advice on how they can enjoy financial, emotional and physical wellbeing in retirement.
"We also work closely with our team members to implement a tailored pathway to their retirement, which can allow them to reduce their hours over time to support a gradual transition," says Zahra.
Some opt to change departments, for instance, to avoid heavy lifting, or for some it might mean a reduction in work hours or days over a period of time.
Workplace flexibility and older workers
One of the other benefits offered — which is well received by those of more senior years, as well as younger members — is the Travelling Team Member policy.
Not many people know about this outside of Bunnings but because we are lucky enough to have a network of stores across Australia and New Zealand, team members are able to work at different locations instead, so they have the flexibility not just based on hours, but also on location," he says.
One older couple, who've been Travelling Team members for seven years, has been touring Australia with a caravan and worked at over 20 Bunnings stores.
"Workplace flexibility is something our team tells us they value enormously, regardless of which stage of life they're at," says Zahra.
"For a younger team member, it might be because they're studying, or maybe those who have family commitments require flexibility. And we also find the same value for older team members who need flexibility to do things that are really important to them."
More flexible approach to recruitment and training
The organisation's flexibility extends to recruitment too – with written applications just as welcome from those who prefer to avoid tech – as well as the company's approach to training, which also supports all ages.
"Older team members value training as much as younger team members do too," says Zahra.
"We like to think we create a place where everyone feels like they can be themselves and a really important part of that is that all of our team members, younger and older, can feel like their contributing to our high performing culture."
Source: hcamag.com
1788 total views, 16 today