Part-Time

WEST END STATE SCHOOL OUTSIDE SCHOOL HOURS CARE SUPERVISOR (EDUCATIONAL LEADER) – PERMANENT POSITION
Job Description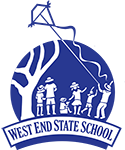 West End State School P&C Association is seeking an experienced, qualified and motivated Supervisor/Educational Leader to join its growing Outside School Hours Care. The service is licensed for 300 children for its BSC, ASC and VAC. The service offers different programs by children's age – Prep, Junior, Middle and Senior, which allows the Educational Leader to plan the programs that are suitable for children's development and interests.
The P&C is committed to the continued improvement of its Outside School Hours Care. Currently there is over 30 staff within its OSHC team. The Service Manager and two Coordinators are responsible to ensure the smooth running of the service. The Management Team strives to provide a friendly, inclusive and supportive service for children, families and staff.
The advertised Supervisor/Educational Leader role is a permanent part-time position with a minimum of 35 hours per week from Monday to Friday (the position would grow into a full time position). The successful applicant will take on the role as the Supervisor and Educational Leader for the Middle Program (Grade 3 & 4) and Senior Program (Grade 5 & 6). This is a senior leadership role with a range of duties and responsibilities; therefore, the successful candidate will need to possess a mature outlook and pro-active approach. The main responsibilities of this role including:
planning and implementing programs to suit WESS OSHC's Middle and Senior Programs;
supervising the daily running of routine and activities for Middle and Senior Programs;
collaborating with other Senior staff to contribute to the service's Quality Improvement Plan;
being the Responsible Person of the Session ( taking turns with other Senior Educators);
providing support and mentorship to Educators; and
building relationship and communicating with families.
The successful candidate will need to meet the following requirement:
Qualification and Training Requirement:
hold a minimum of Diploma in Children Services or equivalent qualifications;
hold a current suitability card (Blue Card);
hold a current First Aid, CPR and Anaphylaxis and Asthma certificates or wiliness to immediately undertake appropriate training; and
hold a certificate of Child Protection Training or wiliness to immediately undertake the appropriate training.
Work Experience Requirement:
have worked in Child Care Industry for at least 2 years;
have worked as a Senior/Lead Educator for at least 1 year;
have experience in planning programs for school aged children;
have experience and the ability to effectively lead and monitor a team of staff;
have experience communicating and liaising with parents and guardians from diverse cultural backgrounds including families from Non-English speaking backgrounds;
have experience interacting and managing children in a large group setting; and
have experience working with children who have special needs and/or challenging behaviours.
able to work a minimum of 35 hours per week ( a minimum of 15 hours non-contact time is included for program planning per week. Depending on experiences, more non-contact hours will be assigned if required to assist with other office duties);
able to work from Monday to Friday during school terms and school holidays; and
able to work a minimum of 2 split shift when needed. Split shift allowance is included.
Knowledge and Skills Requirement:
have an excellent understanding of the National Quality Framework and My Time Our Place or Early Years Learning Framework and Education and Care Services National Law and Regulations;
have knowledge about QK Enrolment, Qikkids and CCS would be an advantage;
have excellent written, verbal and interpersonal communication skills;
have good computer skills
be able to pro-actively implement, follow and contribute to the improvement of policy and procedures; and
be a team-player with a 'can-do' attitude.
This position is suitable for a Senior Educator who has completed the studies and has leadership experience in child care industry.
If you're looking for a rewarding role where you can contribute to create a welcoming and safe environment for children; and to work in a supportive team and a professional working environment – this is the place to be!
Please note: the employment with the service is subject to the satisfactory of a 3 months probationary period.
How to apply:
Please email a cover letter and resume to the Service Manager Iris via coordinatorwessoshc@bigpond.com
Application placed on the shortlist will be contacted within 7 business days.
How to Apply
Please email a cover letter and resume to the Service Manager Iris via coordinatorwessoshc@bigpond.com
7236 total views, 7 today
Apply for this Job